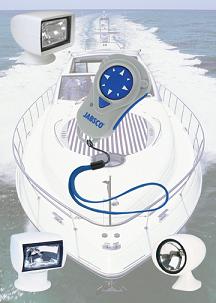 Jabsco introduced their new wireless searchlight remote control, that can be used even retrospectively on most of Jabsco searchlights. Models compatible are, 135 SL, 146 SL, 255 SL , 155 SL ( Only 12 Volt models part numbers ending in -0012 ) white; and 5", 7" and 8" chrome series.
These remote controls can either be used in parallel with the existing switch type panel controls, or independently. The maximum distance between the hand held unit and the receiver can be as great as 30 Meters.
This remote control kit can be supplied either in 12 or 24 Volts.